Sep 15, 2009
Target Center's Green Roof Is Complete!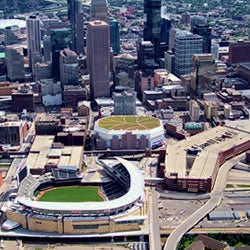 The roof is the fifth largest extensive green roof in the U.S., at the time of design, and the largest in Minnesota. It is also the first green roof installed on an arena in North America.
Nearly 1 million gallons of storm water will be captured annually by the 2.5 acre green roof to prevent drainage into the Mississippi River. In addition to storm water drainage prevention, the roof will also help in mitigating the heat island effect in downtown Minneapolis. The green roof was part of an overall project by the City to replace 29 conventional roofs on five levels of the Target Center.
The roof is planted with a variety of Sedums and Minnesota prairie plants, including Columbine, Prairie Coreopsis, Wild Strawberry, Dotted Blazing-Star, and Lupine. It includes lupines to target the Karner Blue Butterfly, a federally listed endangered butterfly that needs lupines to survive.
Tour The Green Roof:
Click here to join MyFox9 reporter from the rooftop! http://www.myfoxtwincities.com/dpp/news/minnesota/target_green_roof_october_1_2009