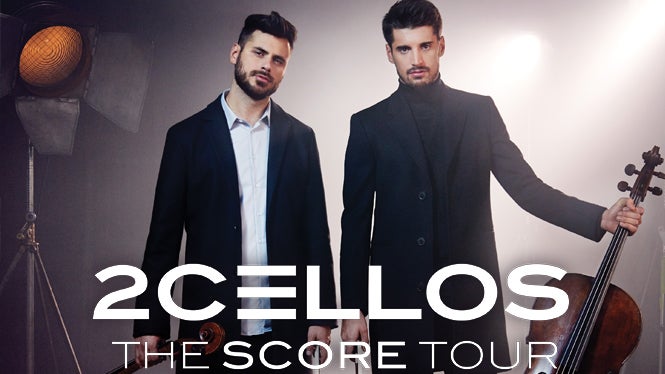 2CELLOS
Event Details
Due to an unavoidable scheduling conflict, 2CELLOS must move their show originally scheduled for October 25, 2017 to January 25, 2018. All previously purchased tickets will be honored for this new date.
2CELLOS, music's most electric and dynamic instrumental duo, go to the movies for their new Portrait/Sony Music Masterworks album Score, available March 17, 2017. Bringing 2CELLOS' game-changing sound and style to the most popular melodies ever written for classic and contemporary movies and television, Score will be supported by a world tour, kicking off with its U.S. leg this summer.
An international sensation since their unique video version of Michael Jackson's "Smooth Criminal" rocked YouTube with millions of hits in 2011, the Croatian cellists Luka Sulic and Stjepan Hauser have created three high-energy albums for Sony Music Masterworks. Score finds them exploring a more traditional sound-world. Joining them here – to provide the ideal aural backdrop to their virtuosity – is the London Symphony Orchestra, with conductor/arranger Robin Smith at the helm. Sulic and Hauser also co-produced Score with Nick Patrick (Jackie Evancho, Il Divo, Placido Domingo).
Additional Ticket Information
Tickets are available at Target Center's box office, online at AXS.com, or by calling 888.9.AXS.TIX.