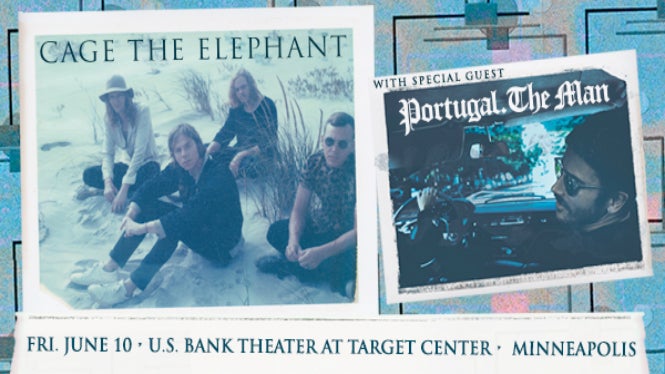 Cage The Elephant
with Portugal. The Man and Twin Peaks
Event Details
When Cage the Elephant released their self-titled debut in 2009, they were heralded as saviors of slacker funk-punk.
Cage the Elephant's fourth studio album Tell Me I'm Pretty debuted at #3 on the Billboard Top Rock Albums Chart and #3 on the Billboard Alternative Albums Chart. The album was released on December 18th, 2015 and lead single "Mess Around" held the #4 spot on the Billboard Alternative Radio chart. Tell Me I'm Pretty was produced by Dan Auerbach of The Black Keys & The Arcs (Lana Del Rey, Ray LaMontagne, The Black Keys, The Arcs). The album was mixed by Tom Elmhirst (Amy Winehouse, Adele, Florence + the Machine) and recorded at Easy Eye Sound in Nashville, TN, near the band's home town of Bowling Green, KY. Rolling Stone said, "Tell Me I'm Pretty reflects everything from psychedelic bubblegum pop to, not coincidentally, the spare tautness of the Black Keys."
Cage the Elephant's Grammy-nominated 2013 album Melophobia took the band to new heights, spinning off two Number One singles on the Alternative charts, "Come a Little Closer" and "Cigarette Daydreams," with Rolling Stone describing the album as, "Kentucky's Cage the Elephant warp Sixties garage rock, Seventies punk and Eighties alt-rock into excellently weird new shapes;" while their 2011 sophomore album Thank You Happy Birthday debuted at #2 on the Billboard Top 200 chart and was praised as "one of the best rock albums of the year." Long celebrated as one of the most explosive live bands in the world, Cage the Elephant has toured extensively, selling out several headlining runs and performing alongside the likes of The Black Keys, Foo Fighters, Muse and Queens of the Stone Age.
Additional Ticket Information
Tickets are available at Target Center's box office, online at AXS.com or by calling 888.9.AXS.TIX.