BACK TO EVENTS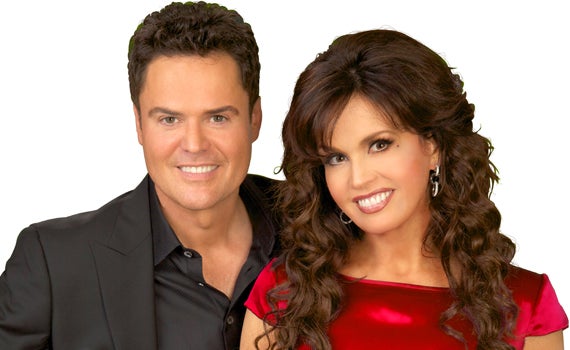 Donny & Marie - Christmas In Minneapolis
America's beloved sibling entertainers will bring holiday cheer to the Twin Cities as they perform Donny & Marie – Christmas In Minneapolis live at Target Center on Saturday, December 21!

Donny and Marie mix the holiday songs and spirit of their early television specials and recordings with a nostalgic look back on their storied career in an dynamic stage show showcasing fan favorites including "A Little Bit of Country, A Little Bit Rock 'n Roll," "Paper Roses," "Puppy Love" and "It Takes Two."

BROADWAY
"INSANELY ENTERTAINING! A SONG AND DANCE SPECTACULAR.
Donny & Marie sing and banter and belt out their hits . . .
Their voices are as strong as ever. You can't fake that kind of chemistry.
It's a beautiful thing."
- Entertainment Weekly

TORONTO
"Donny and Marie are a class act.
THE HARDEST WORKING ENTERTAINERS ON THE PLANET."
- Paula Citron, Globe & Mail

CHICAGO
"Osmonds deliver what we want for Christmas."
- Chris Jones, Chicago Tribune.

Donny and Marie brought Christmas cheer to Broadway and the road the past three seasons while continuing an extraordinary run at the legendary Flamingo Hotel in Las Vegas where they were named Best Show and Best Performers by the Las Vegas Review Journal in 2012.

Donny & Marie Christmas was a holiday hit seen by more than 125,000 fans in cities including Chicago, Los Angeles, Detroit and New York City. After the success of an extensive arena tour in the UK, including London's famed O2 Arena, Donny and Marie decided to bring the show to arenas in the US for the 2013 Christmas season.

With a dash of Christmas spirit and their trademark show-stopping production numbers, Donny & Marie Christmas features Christmas songs and cheer plus hits from their illustrious careers all mixed with the irresistible chemistry that made them international stars leading into "Osmond-Mania" topping the charts.

Donny Osmond began his illustrious career in entertainment at the age of five, and over the course of five decades earned 33 gold records, with sales of more than 100 million albums. He is currently working on his 60th album, with a scheduled release in 2013.

During his extensive career, Donny has been a singer, actor, triple-threat television series host (talk show, game show, variety show), best-selling author, commercial spokesman, motivational speaker, and even a race car driver. One of his most notable appearances was his starring role as Joseph in Sir Andrew Lloyd Webber's Joseph and the Amazing Technicolor Dreamcoat, which broke records during its six-year run with more than 2,000 performances in the US and Canada.

Reflecting his multi-generational worldwide fan base, his website, Donny.com (and official social media sites), receives a staggering 120 million plus hits annually. Donny was the Dancing with the Stars champion in the fall of 2009, where 37 million viewers watched each week. He hosted two daily-syndicated radio shows to international audiences in the US, Canada, UK and Australia. In 2011 he and Marie released their first studio album "Donny and Marie" in over two decades. The single "A Beautiful Life" became #1 on the US Country Charts.

Beginning with her national debut at age three on The Andy Williams Show, Marie Osmond has proven to be a resilient talent with a magnetic presence known across generations, performing for five continuous decades. Marie recorded "Paper Roses" at age twelve, making history as the youngest female artist to have her debut record go to #1, followed by a Grammy nomination. On film, Marie starred in The Gift of Love (1979) Side By Side (1982) and I Married Wyatt Earp (1983)…. "oh, yeah"…and Goin' Coconuts (As she says: "Some things you never stop paying for!") In addition to making over 30 albums and numerous gold records, Marie won a Country Music Association's "Vocal Duo of the Year" award in 1986 for "Meet Me In Montana," with the late Dan Seals.

After reaching the finals in season 5 of Dancing With the Stars (2007), Marie challenged her musical range once again in 2010 with her solo inspirational album titled "I Can Do This." It was instantly in the iTunes top ten listing after she performed "Pie Jesu" on The Oprah Winfrey Show. Marie is a twice New York Times best-selling author (2001 & 2009) and is celebrating 22 years as one of the top collectible doll designers in the world with her Marie Osmond Collectible Dolls. She co-founded and helms the largest children's charity in North America, Children's Miracle Network. Marie's talk show "Marie!" premiered on Hallmark Channel in the Fall of 2012.
2008 marked the Osmonds 50th anniversary as a performing family. After a historic appearance on Oprah which set a daytime ratings record, PBS broadcasted a pledge drive concert special celebrating the milestone and the seven performing Osmonds toured the UK and Australia, Asia for the first time in 27 years, to sellout crowds.

Donny and Marie then announced they were reuniting for what was intended to be a six-month run headlining the legendary Flamingo Hotel on the Las Vegas Strip. "Donny & Marie" opened in September 2008 -- after only 5 weeks, the engagement was extended for two years due to unprecedented demand from around the world; it has since been extended yet again through the end of 2013. Earlier this year, the show was voted Best Show, Donny and Marie were awarded Best All-Around Performers and Donny was chosen as Best Singer by the Las Vegas Review Journal.

Donny & Marie Christmas will visit Tulsa, Oklahoma City, Dallas, Tampa, Sunrise, FL, Greensboro, Nashville, Pittsburgh, Providence, Albany, Cleveland, St. Louis, Columbus, Rosemont, IL and Minneapolis.

For more information, visit www.donnyandmarietour.com

Read More
Dates & Times
More Information
| | |
| --- | --- |
| | Sat, Dec 21, 2013 |
| | 1 hour prior to the event |
| | $49.50 - $125.00 |
| | |
Ticket prices include a $2.00 facility fee.

Tickets are available at Target Center's box office, online at AXS.com or by calling 888.9.AXS.TIX (888.929.7849).

View Seating Chart