BACK TO EVENTS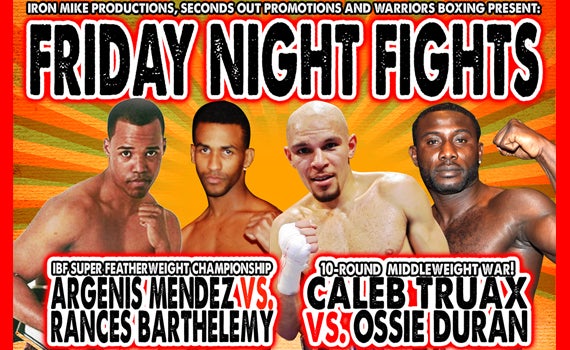 ESPN Friday Night Fights
First bout begins at 7:00 p.m., televised portion begins at 8:00 p.m.
On Friday, January 3, Iron Mike Productions, Seconds Out Promotions and Warriors Boxing will proudly present the year's first installment of ESPN Friday Night Fights at Target Center, featuring two title fights as the featured bouts.

The night's 12-round main event will be an IBF Super Featherweight Championship fight between champion Argenis Mendez (21-2-1, 11 KOs) of Brooklyn, New York via San Juan, Dominican Republic vs. #1-ranked undefeated challenger Rances "Kid Blast" Barthelemy (19-0, 12 KOs) from Miami, via Cuba.

And in the 10-round televised semi-final, USBA Middleweight Champion Caleb "Golden" Truax (23-1, 4 KOs) of Osseo, Minnesota, will face Ossie Duran aka - The Ghanaian Gladiator. Duran is 36 years old, lives in New Jersey and was born in Ghana (28-11-2)
27-year-old Mendez will be making the second defense of his IBF title he won in March of this year with a KO 4 over Juan Carlos Salgado. The victory over Salgado also avenged one of only two defeats Mendez has suffered in his distinguished career. He was last seen in the ring fighting to a majority draw against Arash Usmanee in August. Mendez was a 2004 Olympian and previously held the USBA Super Featherweight (2010) and WBA Fedelatin Super Featherweight (2008) Titles.

27-year-old Barthelemy earned his #1 ranking with a KO 2 over Thailand's Fahsai Sakkreerin last June. Before that, he took a unanimous decision over Arash Usmanee in January. Barthelemy is the younger brother of Olympic Gold Medalist Yan Barthelemy and older brother of Leduan Barthelemy, also a fighter. As an amateur, he was Cuban Junior National Champion.

30-year-old Truax has had a sensational 2013. Fighting out of the Convention Center in Minneapolis, Truax has vanquished two local rivals (UD 10 over Matt Vanda and TKO 4 over Ceresso Fort) and scored a nationally televised TKO 6 over world-rated Donovan George. The victory over Fort garnered him the USBA and Minnesota State Championships. Truax's only career loss was to world champion Jermain Taylor and Truax had Taylor down in round nine.
33-year-old Ennis is a former USBA and Pennsylvania State Champion. He won the USBA Jr. Middleweight title in October 2009 by unanimous decision in an unforgettable war against Eromosele Albert and defended it successfully via 12-round majority decision over the formidable Gabriel Rosado in 2010 He most recently fought to a close majority decision loss to world-rated contender Jonathan Gonzalez. Ennis's brother, Farah, is a well-regarded super middleweight contender and his father, Derrick "Bozy" Ennis, was also a pro fighter.
"Iron Mike Productions is excited to be hosting the first ESPN Friday Nights Fight show of 2014," Iron Mike Productions CEO Garry Jonas said. "We closed the 2013 ESPN Friday Night Fights season with an exciting championship fight and now we're opening 2014 with an exciting championship fight. We'd like to thank Brian Kweder, of ESPN, for giving us this wonderful opportunity. We're looking forward to putting on a sensational event for the great boxing fans in Minnesota."
"I am honored to be returning to a great fight city like Minneapolis and to be working with the great Mike Tyson and his promotional company, as well as a class act like Tony Grygelko and his Seconds Out Promotions," said Leon Margules. "This will be Rances Barthelemy, my fighter's, first world title shot and I'm very excited for him and his chances to bring the belt home."
"I'm very excited to be working with Iron Mike Promotions and Warriors Boxing to kick off the ESPN Friday Night Fights season here in Minneapolis," said Tony Grygelko.
"I'm happy to be going back to my hometown of Minneapolis for this great event with one of the greatest fighters ever, the legendary Mike Tyson," said long-time boxing advisor, Luis DeCubas.
4 Rounds – Super Featherweight Bout
Adrian Martinez (1-0-1) Milwaukee, WI vs. Trevor Marmon (1-0-1 (1 KO)) Duluth, MN

4 Rounds – Super Featherweight Bout
Celiel Castillo (Pro Debut) San Juan, Puerto Rico vs. Dennis Galarza (1-0 (1 KO)) Orlando, FL

4 Rounds – Light Middleweight Bout
Damien Hill (1-3) Crystal, MN vs. Nate Richardson (1-0 (1 KO)) Coon Rapids, MN

6/8 Rounds – Lightweight Bout
Willshaun Boxley (6-8-1 (4 KO's)) Coon Rapids, MN vs. Tony Lee (8-1-1 (3 KO's)) St. Paul, MN

4 Rounds – Welterweight Bout
Luis Santiago (4-0) Canovanas, Puerto Rico vs. Erickson Lubin (1-0 (1 KO)) Miami, FL

6 Rounds – Welterweight Bout
Limberth Ponce (6-0 (4 KO's) Rock Island, IL vs. Javontae Starks (7-0 (5 KO's)) Minneapolis, MN

10 Rounds – Middleweight Bout
Ossie Duran (28-11-2 (11 KO's)) Paterson, NJ vs. Caleb Truax (23-1-1 (14 KO's)) Osseo, MN

12 Rounds – Jr. Lightweight for the IBF World Title Bout
Rances Barthelemy (19-0 (12 KO's) Miami, FL vs. Argenis Mendez (21-2-1 (11 KO's)) Brooklyn, NY

********************ALL BOUTS ARE SUBJECT TO CHANGE********************
About Iron Mike Productions (IMP)
Previously known as Acquinity Sports, Iron Mike Productions is a full-service boxing promotion company co-founded and led by CEO Garry Jonas. In partnership with Hall of Famer Mike Tyson, IMP is committed to changing traditional boxing promotion by advocating for its fighters' successes, inside the ring and out, throughout their professional careers and into retirement.
About Warriors Boxing
Launched in 2003, Warriors Boxing operates under a simple philosophy—bring the best boxers in the world to fight fans, match them in competitive bouts, and in doing so help re-establish the sport of boxing for a new generation.
With a series of successful Pay-Per-View shows and packed houses to its credit, the Warriors business model is working wonders in a sport that was sorely in need of the innovation and energy that the company brings to the table.
When it comes down to it though, a promotional company is only as good as the fighters and fights it promotes. Warriors Boxing has delivered on all fronts, with outstanding bouts such as Lara-Molina, Cayo-Peterson, Abraham-Miranda I and II, Miranda-Pavlik, Miranda-Green, Ibragimov-Briggs, Ibragimov-Klitschko, Urango-Hatton, Urango-Bailey, Cayo-Maidana and Ibragimov-Holyfield.
For more information on Warriors Boxing, visit their website at www.WarriorsBoxing.com.
About Seconds Out Promotions
When retired professional boxer Tony Grygelko found himself unable to stay out of the gym, he realized that his passion for the sport was something he couldn't deny. At age 29, Grygelko formed Seconds Out Promotions.
By utilizing the vast boxing knowledge of world-class trainer Ron Lyke, Grygelko and Seconds Out Promotions found instant success.
Through determination, integrity and hard work, Seconds Out Promotions strives to become a leading fight promotional company in the world, by giving young fighters the ability to showcase their talents to a worldwide audience, along with offering our fans the highest quality programming available.
Seconds Out Promotions was created to bring the very best fights to all fans and participants worldwide. Seconds Out Promotions is committed to the recruitment and development of the best and brightest young fighters to help achieve our mission. Seconds Out Promotions continues to expand its web and television presence, and is establishing itself as one of the fastest-rising fight promotions in the world.
For more information on Seconds Out Promotions, visit their website at: www.SoBoxing.com or their Twitter: @soboxing.
Read More
Dates & Times
More Information
| | |
| --- | --- |
| | Fri, Jan 3, 2014 |
| | 1 hour prior to the event |
| | $250.00, $150.00, $100.00, $65.00 & $35.00 |
| | |
The $250 ticket (Rows 1 & 2 on the floor) includes a Meet & Greet with Mike Tyson. Customers will be contacted via email approximately one (1) week prior to the event with details on the Meet & Greet.

Ticket prices include a $2.00 Facility Fee.

Tickets are available at Target Center's Box Office, online at AXS.com, or by calling 888.9.AXS.TIX (888.929.7849).

View Seating Chart