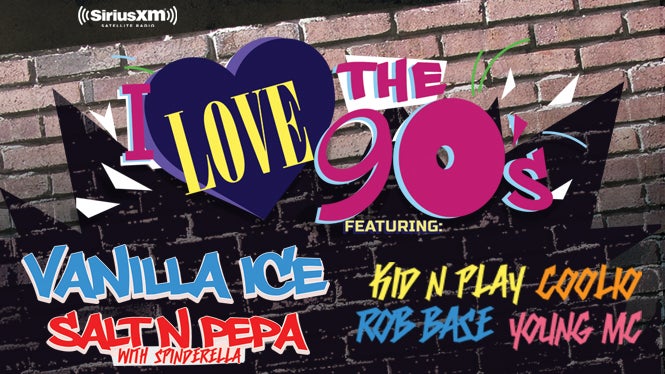 I Love The 90's
featuring Vanilla Ice, Salt-N-Pepa, Coolio, Kid 'n Play, Rob Base & Young MC
Event Details
The inaugural edition of I Love The '90s Tour invites attendees to reminisce about the trend-setting decade with some of the most iconic, indelible names in rap, hip hop and R&B. Vanilla Ice, Salt-N-Pepa (with Spinderella), Coolio, Kid 'n Play, Rob Base, and Young MC compose Minneapolis' line-up of iconic '90s artists. The show features upwards of eight performers and promises a lineup that you won't find anywhere else.
Audiences can expect to hear chart-topping hits like "Let's Talk About Sex," "Shoop," "Ice, Ice Baby," "It Takes Two," "Gangsta's Paradise," "Bust A Move" and MORE during a fun-filled night out that doubles as an arena-sized dance party.
Additional Ticket Information
Tickets on sale at the Target Center box office, online at AXS.com and charge by phone at 1-888-9-AXS-TIX.