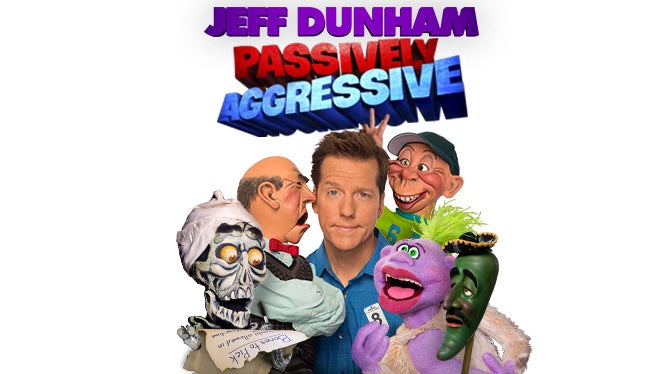 Jeff Dunham
Event Details
Comedian Jeff Dunham has announced the spring leg of his "PASSIVELY AGGRESSIVE" Tour, with his delightfully twisted cohorts; Peanut, Walter, José Jalapeño, Bubba J, and of course, Achmed the Dead Terrorist. The 56-city tour, which includes stops in the US and Canada will unveil a brand-new character… Or two!
Dunham has built an entertainment empire over years of non-stop touring and innovation. With 10 million followers on Facebook and 1.8 million YouTube subscribers amassing over a billion views, Jeff has carved out his own unique space in the comedy world leading to record-breaking viewership with his comedy specials on Comedy Central and NBC. His astonishing arena packing power has put him on par with major music acts like Kendrick Lamar and Bruno Mars.
This holiday season Jeff voices the characters Peanutbutter and Clyde in animated tale "Elliot: The Littlest Reindeer." The film also features the voices of Samantha Bee, Martin Short, John Cleese, Morena Baccarin and premiered nationwide November 30th. Visit the trailer at https://www.youtube.com/watch?v=j5_Za9cPI5w.
Dunham's most recent stand-up special filmed in Ireland, "Relative Disaster," features Dunham along with his ill-behaved and slightly demented posse of characters for a hilarious skewering of family and politics. Relative Disaster is now streaming on Netflix.
Additional Ticket Information
Tickets on sale at the Target Center box office, online at AXS.com or by calling 888-9-AXS-TIX.