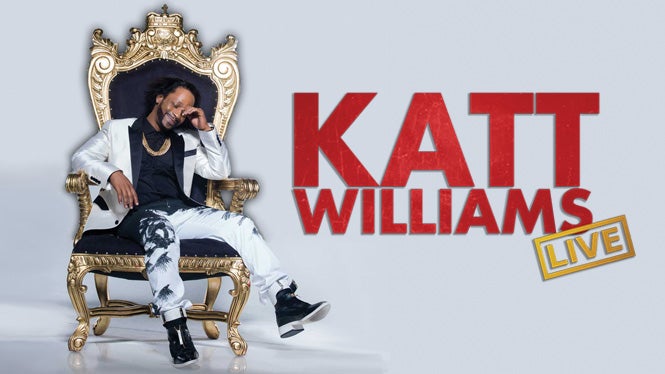 Katt Williams
Event Details
Legendary stand-up comedian, world-renowned actor, rapper and vanguard in an elite category of professionally-touring comics, KATT WILLIAMS has developed a career seeded with thousands of stage shows in sold-out arenas, a laundry list of starring roles on the small screen and memorable performances in major box office hits. As he approaches his 20th anniversary in the business, the veteran entertainer known for his insightful, often polarizing material gears up to embark on his next tour, Conspiracy Theory, with a renewed sense of self, yet the exact same mode of operation that turned the once emancipated teenager into a household name— comedy on his own terms.
A Katt Williams show is more than a guaranteed belly laugh. As one of this generation's rare urban public officials, Williams guarantees his audience an experience that will encourage further conversation after his curtain closes—it's an articulate, sharp dialogue that surfaces with names like Trump, Cosby and NASA, but is rooted in evergreen conversations like politics, race relations and police brutality— all a mere (and mirror) reflection of the American political landscape.
Having strategically remained silent through the better part of 2015, Williams returns to the stage renewed, putting an end to his hiatus and more noticeably a challenging personal history. The long-awaited rebirth of the beloved comedian is more than a reinvention, and the Katt with seemingly more than nine lives, is set to hit the road with a kind of vigor found only in newly-awakened individuals.
Born on September 2, 1971 (Williams is 44) in Cincinnati, Ohio, he grew up in Dayton. Always the strong-willed, self-motivated young man, Williams became emancipated early in his teens and moved himself to Florida where he worked as a door-to-door salesman. It wasn't long before a teenage Williams had his first stand-up experience, thrilling a crowd with a five-minute improv routine, much to his surprise. That's when he knew. Willliams, having searched his entire adolescence for a sense of purpose, discovered the rich fulfillment in making people smile, even if just for those five minutes.
Encouraged by his early success, Williams committed himself to fine-tuning his God-given talent— a unique comedic delivery audiences had not yet witnessed— by performing his routines in clubs all over the country. By 1999, he had become an established comic, playing amongst the Greats (Martin Lawrence, Dave Chapelle, Chris Rock), taking center stage at the most renowned stages in the U.S.: The Improv, The Comedy Club, The Icehouse, etc. and doing what no other stand-up comic was doing— cultivating an authentic friendship with his audience. When he realized he was beginning to gain a loyal fan base, he made a smooth transition into Film and Television.
Williams first found himself on the small screen in 2002, as a guest star on "NYPD Blue," swiftly followed by "The Tracy Morgan Show," "My Wife and Kids," "The Boondocks" and countless other hit series. 2002 was a year of many "firsts" for the triple-threat, as Williams also debuted on the big screen for the first time, playing "Money Mike" in "Friday After Next".
In 2005, he joined Nick Cannon in his wildly-popular MTV improv show "Wild n' Out" where he remained for three full seasons, also adding "Rebound" to his film resume that year, the "Epic Movie" in 2007 and "First Sunday" in 2008. All the while touring, Williams also turned several of his shows ("The Pimp Chronicles Pt. 1," "It's Pimpin' Pimpin'," "Kattpacalypse," "Priceless: Afterlife," "Katt Williams Live," "American Hustle") into HBO Specials that would draw some of the largest numbers the prominent network had seen.
Whether on stage or at home, Williams takes his personal style seriously and has always had a genuine love of fashion. Tailored suits, fur coats, one-of-a-kind kicks, it's all in play in the Williams household, a home he proudly maintains as a place that encourages pursuing your personal best and greatness.
Additional Ticket Information
Tickets are available at Target Center's box office, online at AXS.com or by calling 888.9.AXS.TIX (888.929.7849).