BACK TO EVENTS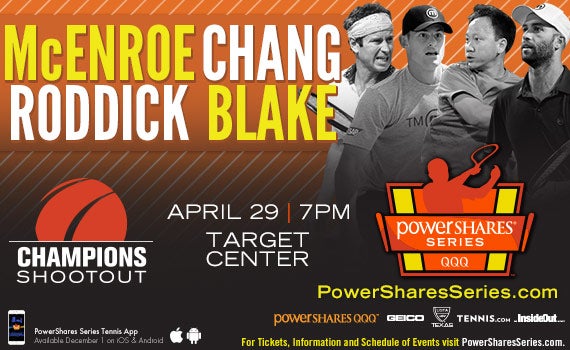 PowerShares Series Tennis
Champions Shootout
Tennis champions John McEnroe, Andy Roddick, Michael Chang and James Blake will compete in the "Champions Shootout" Wednesday, April 29 at Target Center as part of the 2015 PowerShares Series champion's tennis circuit.
The one-night event will feature two one-set semifinal matches (John McEnroe vs. James Blake, Andy Roddick vs. Michael Chang), followed by a one–set championship match. Tickets and unique VIP fan experience packages are now on sale. Tickets start at $30 and all ticket and VIP information is available at www.PowerSharesSeries.com.
McEnroe won seven majors singles titles in his career along with 10 other majors in doubles and mixed doubles. He won the U.S. Open four times and Wimbledon three times and helped the United States to the Davis Cup title five times. He captured 77 career singles titles and 78 career doubles titles. He has continued his fine play on the champion's tour, winning numerous champions events around the world since his final full-time year on the ATP Tour in 1992, including the points title on last year's PowerShares Series. He was inducted into the International Tennis Hall of Fame in 1999.
Roddick was the top American man in professional tennis over the last 10 years, winning the 2003 U.S. Open while also posting runner-up finishes at Wimbledon in 2004, 2005 and 2009. He achieved the world No. 1 ranking in 2003 and guided the United States to the Davis Cup title in 2007 – the first championship for the U.S. in 12 years. He concluded his sure-to-be Hall of Fame career at the 2012 U.S. Open.
Chang is best known for his historic win at the 1989 French Open where, at the age of 17, was the youngest man to win a major singles title, while also becoming the first American in 34 years to win at Roland Garros. He reached the world No. 2 ranking in 1996 and was the runner-up at the French Open in 1995 and the U.S. and Australian Open in 1996. He was inducted into the International Tennis Hall of Fame in 2008.
Blake ended his 14-year ATP career, that saw him win 10 singles titles and reach a career high ranking of No. 4, at the 2013 U.S. Open. Blake is best known for playing singles for the U.S. Davis Cup team in helping the United States win the 2007 title – the first win for a U.S. team since 1995. Last year, he finished No. 2 on the PowerShares Series season-long points rankings behind John McEnroe.
ABOUT INSIDEOUT SPORTS + ENTERTAINMENT
InsideOut Sports + Entertainment is a New York City-based producer of proprietary events and promotions founded in 2004 by former world No. 1 and Hall of Fame tennis player Jim Courier and former SFX and Clear Channel executive Jon Venison. In 2005, InsideOut launched its signature property, the Champions Series, a collection of tournaments featuring the greatest names in tennis over the age of 30. In addition, InsideOut produces many other successful events including "Legendary Night" exhibitions, The World Series of Volleyball and numerous corporate outings. Since inception, InsideOut Sports + Entertainment has have raised over $4 million for charity. In 2014, InsideOut Sports + Entertainment merged with Horizon Media, the largest privately held media services agency in the world. For more information, please log on to www.InsideOutSE.com or www.powersharesseries.com or follow on Facebook, Twitter and YouTube.
ABOUT HORIZON MEDIA
Horizon Media, Inc. is the largest and fastest growing privately held media services agency in the world. The company was founded in 1989, is headquartered in New York, and has offices in Los Angeles, San Diego and Chicago. Horizon Media was named 2011 Independent Media Agency of the Year by Mediapost, 2010 U.S. Media Agency of the Year by Adweek, Brandweek, Mediaweek and Ad Age and as one of the world's ten most innovative marketing and advertising companies by Fast Company in 2011. In 2012, Bill Koenigsberg, President, CEO and Founder, was honored by Advertising Age as Industry Executive of the Year and he currently serves as Chairman of the 4A's, the industry's oldest and most prestigious trade association. The company's mission is "To create the most meaningful brand connections within the lives of people everywhere." Horizon Media has estimated billings of $4 .7 billion and approximately 1,000 employees. For more info, go to www.HorizonMedia.com
ABOUT INVESCO POWERSHARES
Invesco PowerShares Capital Management LLC is Leading the Intelligent ETF Revolution® through its family of more than 140 domestic and international exchange-traded funds, providing advisors and investors access to an innovative array of focused investment opportunities. With franchise assets over $66.7 billion as of June 29, 2012, PowerShares ETFs trade on both U.S. stock exchanges. For more information, please visit us at invescopowershares.com or follow us on Twitter @PowerShares.
ABOUT POWERSHARES QQQ
PowerShares QQQ™, an exchange-traded fund (ETF) based on the NASDAQ-100 Index®, is one of the largest and most traded ETFs in the world. Under most circumstances, QQQ will consist of all of the stocks in the index which includes 100 of the largest domestic and international nonfinancial companies listed on the NASDAQ Stock Market based on market capitalization.
Read More
Dates & Times
More Information
| | |
| --- | --- |
| | Wed, Apr 29, 2015 |
| | 1 hour prior to the event |
| | $37.00, $67.00, $97.00, $127.00 & $252.00 |
| | |
Prices include a $2.00 Facility Fee.

Tickets are available at Target Center's box office, online at Targetcenter.com, AXS.com, livenation.com, or by calling 888.9.AXS.TIX.

View Seating Chart