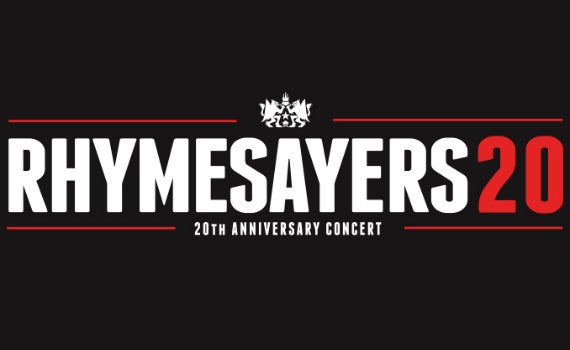 Rhymesayers 20 Year Anniversary Concert
Presented by First Avenue, 89.3 The Current & City Pages
Event Details
Twenty years ago in 1995, with the Headshots cassette series, the Minneapolis based independent record label, Rhymesayers Entertainment was born.
From the beginning, artist collective and record label Rhymesayers Entertainment has been independently releasing music and nurturing the careers of artists like Atmoshpere and Brother Ali. From early mix-tape style cassettes, to debut album Beyond Comparison in 1996, to recent label addition Prof whose new release Liability drops this Friday; Rhymesayers has been producing music and representing artists for twenty years. On Friday, December 4, they bring together career acts and new talent alike to join under one roof in Minneapolis, MN to celebrate.
On Friday, December 4, 2015, Rhymesayers, in conjunction with First Avenue and Target Center, will bring together twenty years of music and artists for a one- night only performance at the Target Center, downtown Minneapolis.
The evening will include special performances by (in alphabetical order): Abstract Rude, Aesop Rock, Atmosphere, Battlecats, BK One, Blueprint, Boom Bap Project, Brother Ali, deM atlaS, Dilated Peoples, DJ Abilities, Evidence, Felt, Freeway, Grayskul, Grieves, Hail Mary Mallon, I Self Devine, Jake One, K-Salaam, Los Nativos, Micranots, Mr. Dibbs, Musab, P.O.S, Prof, Soul Position, The Uncluded and Toki Wright.
All arena seats (including the entire general admission floor) are only $20.00 (plus facility, ticketing fees and taxes) to celebrate twenty years of Rhymesayers.
Limited VIP packages available (with all the goodies) for $100.00 (plus facility, ticketing fees and taxes). VIP includes: premium VIP seating, exclusive Rhymesayers 20 Shirt, VIP bag, Rhymesayers 20 Sticker, limited edition VIP laminate with lanyard,exclusive VIP entrance and special VIP only bars.
Rhymesayers special subscribers fan pre sale begins Wednesday, October 14 at 10:00am CST while supplies last.
Tickets go on sale to the general public this Friday, October 16 at 10:00am CST.
All ages are welcome. Doors open at 5:00PM sharp. Party until midnight.
Additional Ticket Information
Ticket prices include a $2.00 facility fee.