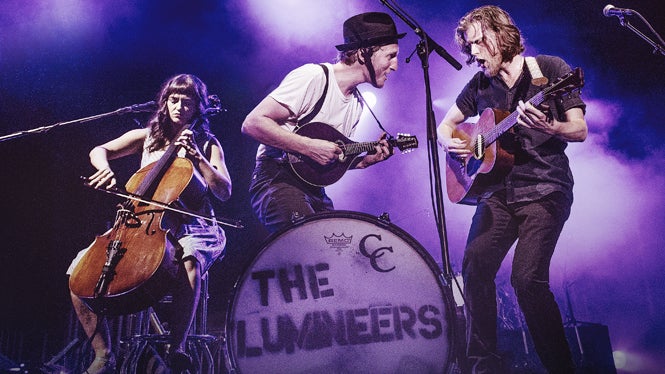 The Lumineers
with Andrew Bird & Margaret Glaspy
Date

Jan

19

, 2017

Event Starts

7:00 PM

Doors Open

6:00 PM

Ticket Prices

$29.50 - $59.50

Availability

On Sale Now

Seating Chart

View Seating Chart
Event Details
The Lumineers are one of the unlikeliest success stories of the past few years. A scruffy independent Americana trio out of Denver, their irresistible anthem "Ho Hey" took the world by storm in 2012, followed by a second #1 single "Stubborn Love" and their third charting single "Submarines", all carrying them on a journey from the Grammys to the presidential iPod, from the top of the charts to the Hunger Games. Their self-titled debut album became a multi-million seller as they stormed stages around the world and legions of new fans fell in love with the wide emotional and philosophical range of their rich, lyrical songwriting. Now, at long last, they are back with their second album, Cleopatra, a collection of such depth and texture it affirms The Lumineers as a band in for the long haul, with a growing canon of songs that stand comparison with the best America has to offer.
The Lumineers are songwriters Wesley Schultz (vocals, guitar) and Jeremiah Fraites (drums, piano). They are joined by cellist and backing vocalist Neyla Pekarek, who became a part of the group in 2010. Cleopatra is the result of three years of non-stop touring in the heady whirlwind of growing fame, six months of secluded writing in a small house in Denver, and two months of recording in the rural isolation of Woodstock. "I think the old fashioned way is the honest way," says blonde, bearded, soft spoken singer Wesley. "We wanted to take our time, strip it right back to its raw and honest essentials, and make an album we believe in." In a world where sophomore albums are commonly rushed out the door, Jer felt they, "took the right amount of time we needed to make the record we imagined, on our own timeline."
Additional Ticket Information
Tickets are available at Target Center's box office, online at AXS.com, or by calling 888.9.AXS.TIX.