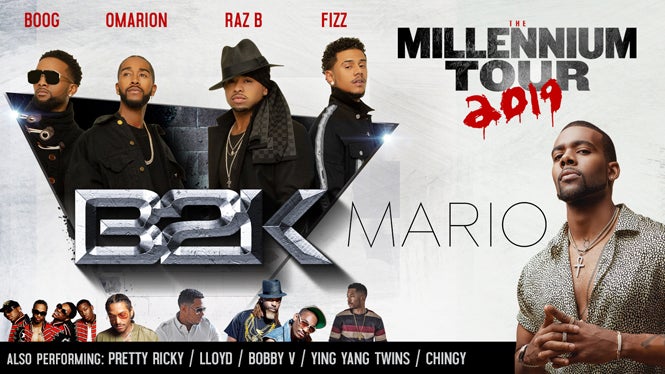 The Millennium Tour feat. B2K
Mario, Pretty Ricky, Lloyd, Bobby V, Chingy & Ying Yang Twins
Event Details
Multi-platinum R&B group B2K (Omarion, Boog, Fizz and Raz-B), announced a limited engagement tour in 2019, entitled "The Millennium Tour." The iconic group - along with special guests Mario, Pretty Ricky, Lloyd, Ying Yang Twins, Chingy, and Bobby V - will visit over 25 cities across the U.S. The tour is produced by G-Squared Events in association with Omarion Worldwide, Hall of Fame Entertainment, and Blvd. Music.

"Omarion Worldwide and Omarion are excited to be a part of what will undeniably be a nostalgic and electrifying performance that will awaken cherished memories and create new indelible ones for the next generation", says Michelle Le Fleur, COO, Omarion Worldwide. While admiring their solo successes', the fans have consistently demanded a B2K reunion, and with the determination of an incredibly talented team, that dream is now a reality."

B2K was the quintessential R&B boys group of the 2000s, whose impact on the culture has remained steadfast. Although the group disbanded over a decade ago, their music has consistently stayed on top of streaming playlists and they remain a hot topic of mainstream conversation on reality TV and social media. Known for their chart-topping tracks including "BUMP, BUMP, BUMP", "Uh Huh", "What A Girl Wants", "Why I love You" and "Girlfriend" - B2K kept the girls screaming. Not only were they breaking hearts – they were breaking records, electrifying the airwaves, and blazing the stage with their signature dance moves. B2K would become one of the most unforgettable and highly sought-after groups in the 2000's.

Fans can expect to hear the group's biggest hits as they perform together for the first time in over a decade. For full concert details, visit targetcenter.com or gsquaredevents.com.
Additional Ticket Information
Tickets on sale at the Target Center box office, online at AXS.com or by calling 888-9-AXS-TIX.