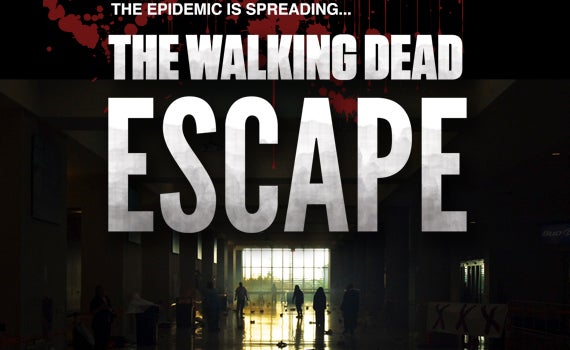 Walking Dead Escape
Date

June

21

, 2014

Event Starts

6:00 PM

Ticket Prices

$150.00 (VIP), $95.00 (Walker), $75.00 (Survivor), $20.00 (Spectator)*

Availability

On Sale Now
Event Details
The infection is spreading to Minneapolis! Be a part of this epic event as Survivors run for their lives in the Walker infested Target Center on Saturday, June 21, 2014. Register as a Walker or Survivor and test your skills on the Evacuation Route, or experience the Evacuation of the Apocalypse as a Spectator. See Survivors navigate the Zombie overrun Evacuation Zone, Herd Highway, Hospital Hell, Prison Gauntlet, Quarantine, and more. Plus you can meet all the Walkers and Survivors at the official FAN FEST at the end of the course.
ELEMENTS OF THE APOCALYPSE
Your only obstacle isn't being chased by Walkers. You will climb, jump, slide, and crawl through our Chain Link Mega Zone, Herd Highway, Hospital Hell, and more! Test your skills and find your way to the Decontamination Zone in order to survive the Apocalypse.
Evacuation Zone: You thought you were escaping the virus, but your military-guarded safe zone has been compromised. Break through the zombie chaos and begin the run to survive.
Herd Highway: Herds of zombies have overrun a highway of abandoned cars. Hide and dash your way through the congested dead zone - but be strategic! Herds are attracted by smells, sounds and quick movement!
Hospital Hell: Rick woke from his coma in a zombie-infested hospital. Navigate the undead Doctors and destroyed equipment to escape the crumbling medical facility.
The Prison Gauntlet: Rick's group hasn't cleared this prison block yet. Crawl your way through the barricades and chain link fences to escape the infested penitentiary.
Quarantine: Just when you think you're safe... FEMA teams must run highly confidential scientific tests on you to find out if you've been infected!

For more information, please visit thewalkingdeadescape.com.
Parking passes now available in advance. Click HERE to purchase now!
Additional Ticket Information
Advance: Tickets and Registrations are available at www.thewalkingdeadescape.com
Day-of-Show: Tickets and Registrations are available at Target Center's box office.
REGISTRATION TYPES*
Survivor ($75/$65 with Military ID): Navigate the course and avoid the undead. 35-50 minutes of Walking Dead madness! Access to the official TWDE After Party. Enjoy a cool beer (provided you are of legal drinking age) after you finish the course... if you survive.
Walker ($95/$85 with Military ID): Join the undead horde and stalk the course for 1.5 hours as an official Escape Walker. As a Walker, you will receive a professional make up session and/or Hollywood-style hyper-realistic synthetic mask as well as full Walker training. Plus access to the official TWDE After Party where people WILL want to take pictures of and with you. Walkers need to arrive 2 hours before their selected course time.
VIP ($150): The VIP package includes the option to run course twice – first as a Survivor and then a Walker, VIP special edition comic book, VIP-only lounge at the official TWDE After Party, and exclusive behind the scenes access!
Spectator ($20/$10 with Military ID): Full access to all spectator areas throughout the course, the official TWDE After Party, and the merchandise area. Bring your camera because you're going to get some great pics!
*Additional fees may apply.
EXECUTIVE SUITES ARE NOT AVAILABLE FOR THIS EVENT.