BACK TO EVENTS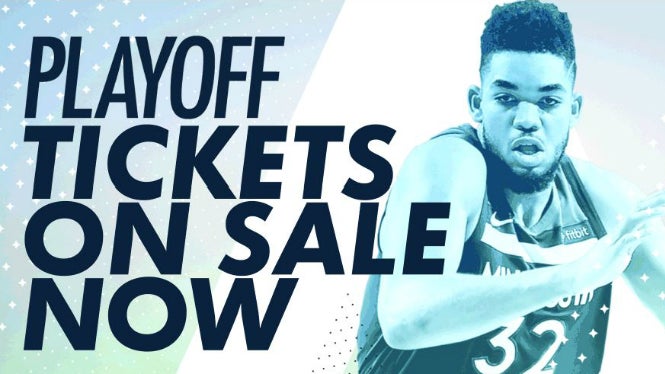 NBA Playoffs: Minnesota Timberwolves vs. Houston Rockets
Round 1 Game 3
With a 112-106 win in overtime over the Denver Nuggets in front of a sold-out crowd of 18,978 at Target Center, the Timberwolves have clinched a trip to the NBA playoffs, making good on the promise made exactly one year ago today that established a "new era" of Timberwolves basketball. The team's 16th home sellout of the season marks the most for the franchise since the 1991-92 campaign.

"We are thrilled to say that we have delivered on our commitment to our fans to usher in a new era of Timberwolves basketball," said Timberwolves CEO Ethan Casson. "We want to thank the fans for their incredible support, which has led to one of our more successful seasons in recent team history, both on and off the court. A new level of excitement begins as we reintroduce NBA playoff basketball to Minnesota. We look forward to Target Center being electric, providing our team the ultimate home-court advantage."

In front of a sold-out crowd on Fan Appreciation Night last season (April 11, 2017), the team ushered in a new era with the unveiling of the team's new logo. After an exciting offseason that took the new brand to events across the state of Minnesota, the team returned home to a newly-renovated Target Center. The regular season yielded a 15% increase in attendance year-over-year and 16 sellouts, including tonight's.

Led by Jimmy Butler, Karl-Anthony Towns and Andrew Wiggins, Minnesota ends the 2017-18 regular season with a record of 47-35. The 47 wins are 16 more than last season's total, representing the largest single-season winning percentage increase (+.195) in team history. The Wolves finished the season 34-18 against the Western Conference and 30-11 at Target Center, tying for the second-most home wins in a single season in franchise history. Minnesota came into tonight tied for fourth in the NBA in offensive rating (110.8), fifth in field goal percentage (47.6%) and seventh in scoring (109.5 ppg).

The Timberwolves finish as the eighth seed in the Western Conference and will face the Houston Rockets in the first-round matchups. Information on dates and times for the Timberwolves first-round playoff series presented by U.S. Bank will be announced by the NBA shortly.

Tickets for all first-round home playoff games at Target Center are currently on-sale at www.timberwolves.com or by calling 612-673-8419. Prices start at $25 per seat.

Read More
Dates & Times
More Information
| | |
| --- | --- |
| | Sat, Apr 21, 2018 |
| | 5:00 PM |
| | |
| | |
| --- | --- |
| | Timberwolves tickets are available online and can be purchased by phone at 612-673-1234. |