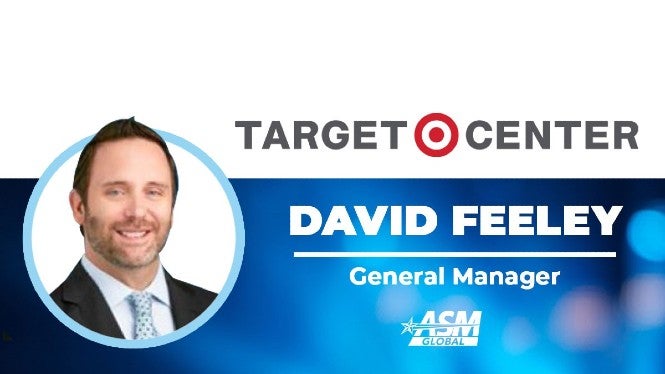 Minneapolis, MN. (December 3, 2021) – ASM Global, the premier venue management and services company, has appointed David Feeley as General Manager of Target Center located in Minneapolis. An industry veteran with over 23 years of experience in event and facility operations, Feeley joins ASM Global after long tenure as an operations executive with MGM Resorts Inc.
"We are delighted to announce David's appointment as General Manager of Target Center," said Ron Bension, President and CEO of ASM Global. "Having worked with some of the world's leading Entertainment Companies, David will bring a wealth of experience and extensive industry relationships that will greatly benefit the facility."
"I am excited and honored to lead the talented team at Target Center as General Manager," said David Feeley. "With the $145 Million venue renovation completed, Target Center continues to provide a great entertainment experience to the passionate fans coming to downtown Minneapolis. I am thrilled and look forward to collaborating with our team, the City of Minneapolis and our partners to bring live entertainment to the city."
Feeley's career began within Operations for multiple Major League Soccer teams where he was responsible for the pre-opening, marketing, booking and operations within soccer specific stadiums. He has worked with teams that have played in Soldier Field & Seat Geek Stadium (Chicago Fire) in the Chicago market as well as the Mid-America Center in Council Bluffs, IA before spending the last 13 years as an operations executive within MGM Resorts Inc & Caesars Entertainment with regional oversight responsible for over 500 ticketed shows annually.
"David is an industry veteran who will optimize all aspects of venue operations and elevate Target Center as a community partner," said Doug Thornton, Executive Vice President, ASM Global. "He also understands what our clients, staff and guests need to be successful and will be committed to exceeding their expectations."
About ASM Global
ASM Global is the world's leading producer of entertainment experiences. It is the global leader in venue and event strategy and management – delivering locally tailored solutions and cutting-edge technologies to achieve maximum results for venue owners. The company's elite venue network spans five continents, with a portfolio of more than 325 of the world's most prestigious arenas, stadiums, convention and exhibition centers, and performing arts venues. Follow us on Facebook, Instagram, LinkedIn and Twitter and online at asmglobal.com
Media Contact
Amy Rahja Director of Booking, Marketing & Sales 612.673.8308 amyrahja@targetcenter.com