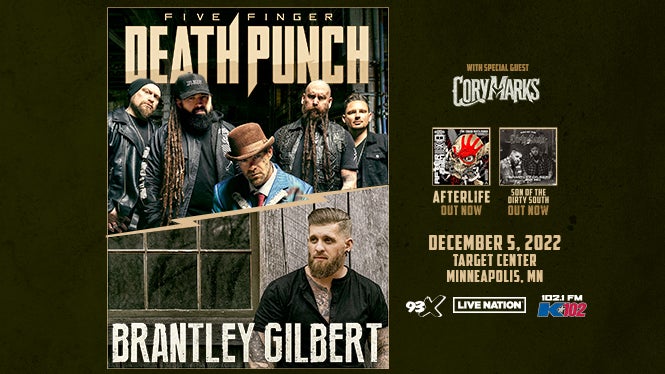 FIVE FINGER DEATH PUNCH AND BRANTLEY GILBERT COME TO MINNEAPOLIS FOR THEIR MASSIVE US FALL TOUR ON DECEMBER 5.
-- Tickets on sale Friday, August 19 at Target Center.
MINNEAPOLIS, Minn. (August 15, 2022) – Multi-platinum powerhouses, Five Finger Death Punch and Brantley Gilbert, have announced today that they will be joining forces this fall for a massive US arena tour with support from newcomer Cory Marks. Produced by Live Nation, the tour will kick off in Grand Rapids on November 9th and lay waste to 20 more cities before wrapping up in Las Vegas on December 17th. Tickets go on general on-sale at 10am local on Friday, August 19th.
This epic run is not the first time Five Finger Death Punch and Brantley Gilbert have joined forces. The two artists brought the worlds of hard rock and country rock together when they partnered on their global #1 hit, "Blue On Black" in 2019. The track also featured Brian May, the song's original performer, Kenny Wayne Shepherd and was in support of The Gary Sinise Foundation, to benefit first responders. To date, the collaboration has garnered a staggering 110 million YouTube views and 62 million Spotify streams, proving that this very special tour should not be missed by fans of either artist!
Five Finger Death Punch and Brantley Gilbert with special guest Cory Marks begins at 6:30 p.m. on Monday, December 5. For more information on current safety protocols, expectations, guest experience, and Target Center visit TargetCenter.com.
ABOUT FIVE FINGER DEATH PUNCH:
FIVE FINGER DEATH PUNCH have amassed 25 top 10 hit singles and 12 #1 singles. Having become one of the most recognizable names in music, 5FDP frequently play all major festivals and sell out arenas around the world. Since their debut album, The Way of the Fist came out in 2007 the band has released seven consecutive albums that were certified Gold or Platinum by the RIAA, as well as two chart topping Greatest Hits albums. In addition, 5FDP has earned numerous national and international awards and honors over the last decade, such as the prestigious Soldier Appreciation Award by the Association Of The United States Army, an honor bestowed only upon Elvis Presley before them.
ABOUT BRANTLEY GILBERT:
With back-to-back Platinum albums and a grassroots following millions strong, Brantley Gilbert's music has been shared, covered and adopted as the soundtrack to Saturday night and Sunday morning by audiences around the world. The Georgia native who started as the defiant life-of-the-party can still go 'til sunrise, but he's also emerged as something far greater: the leader of a massive tribe of hard-working, fun-loving believers for whom electric guitar-shredding, rapping, and twang can go hand-in-hand-in-hand. They call themselves the BG Nation, and when the BG Nation watches Gilbert on a stage, they don't just see a star. They see themselves. Seven No. 1 hits punctuate his career: "Country Must be Country Wide," "You Don't Know Her Like I Do," CMA Awards Song of the Year nominee "Dirt Road Anthem," "My Kinda Party," RIAA 5x Platinum-certified "Bottoms Up," "One Hell of an Amen" and collaboration with Lindsay Ell "What Happens In A Small Town." Gilbert's landmark record Just As I Am clinched the 2014 American Music Award for Favorite Country Album. Earning praise from the New York Times, NPR, American Songwriter, and more, Gilbert has mined a rich vein of conflict between the party and the pew on all of his albums. Instead of toiling in limbo, unable to enjoy good times for fear of Judgment Day, Gilbert fully lives––rowdy friend, man of faith, devoted husband, smitten new father––just as he is. His latest release "Son Of The Dirty South" featuring Jelly Roll is available now via The Valory Music Co., and the two embark on the Son Of The Dirty South Tour this summer before joining Five Finger Death Punch this fall for their co-headlining arena tour throughout the U.S. For tour dates, tickets and additional information, visit BrantleyGilbert.com or follow him Instagram and Twitter @BrantleyGilbert and Facebook.com/BrantleyGilbertMusic.