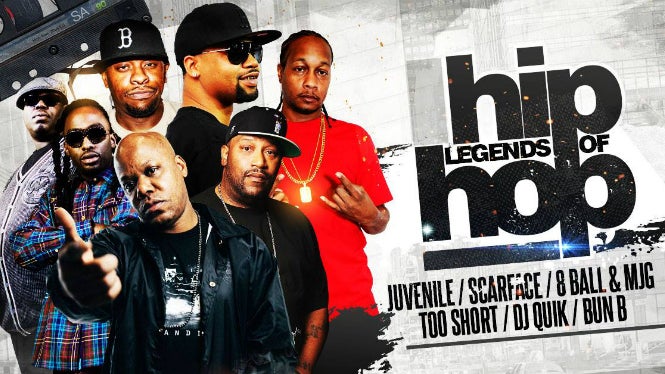 LEGENDS OF HIP HOP:
JUVENILE, SCARFACE, TOO SHORT, DJ QUIK, 8 BALL & MJG AND BUN B

EVENT INFORMATION
Show: Legends of Hip Hop
Venue: Target Center
Show Date/Time: Saturday, April 13 at 8pm. Doors open at 7pm.
Ticket Prices: $55 - $128
On Sale Info: Tickets on sale Friday, November 30 at 10am at the Target Center box office, online at TargetCenter.com or by calling 888-9-AXS-TIX.


ARTIST BIOS
*Lineup Subject to Change*

JUVENILE
Having come up in the Hot Boys group alongside superstar Lil Wayne, New Orleans rapper Juvenile is a Southern hip-hop veteran, and a chart-topping one as well, having climbed the U.S. Billboard Hot 100 with his 2004 single "Slow Motion." Born Terius Gray, Juvenile was one of the initial figures involved in New Orleans' "bounce" craze of the early '90s, an uptempo style of hip-hop that combined gangster rap and party music. Besides an affiliation with the bounce group U.N.L.V., Juvenile was featured on two tracks from bounce artist DJ Jimi, 1991's "It's Jimi" and 1993's "Bounce (For the Juvenile)." The Warlock record label released his debut album, Being Myself, in 1994, but the bounce craze failed to spread past New Orleans so the rapper's quest for national success was back at square one. Cash Money label owners Ronald "Suga Slim" Williams and Brian "Baby" Williams brought the post-bounce Juvenile on board in 1997, releasing his noticeably more gangster album Solja Rags that same year. Juvenile joined fellow Cash Money rappers Lil Wayne, B.G., and Turk in the Hot Boys, who also released their debut album, Get It How U Live!, in 1997. Both debuts were produced in total by Mannie Fresh, who was back for Juvenile's 1998 solo release 400 Degreez, his platinum-selling, breakthrough effort thanks in part to the successful singles "Ha" and "Back That Azz Up." Two more platinum awards came Juvenile's way in 1999 with the successful solo album Tha G-Code and the Hot Boys' sophomore release, Guerrilla Warfare. Warlock jumped on the bandwagon that year as well with a remixed version of Being Myself. His 2001 album Project English went gold but the rapper would leave the Cash Money label soon after its release, claiming financial mismanagement and forming his own label and management team, UTP. UTP promised an album titled 600 Degreez but it failed to arrive, and soon, Juvenile's management had brokered a deal where his next album would be a Cash Money/UTP co-release. Juve the Great carried both imprints when it landed in 2003, and when its single "Slow Motion" featuring Soulja Slim climbed to the top of the U.S. Billboard Hot 100, Juvenile had his third platinum album award. A clean break with Cash Money came in 2004 when he released the single "Nolia Clap" with his new group UTP on the Rap-A-Lot label. A year later, Juvenile was signing a new solo career contract with Asylum when his Slidell, Louisiana, home was destroyed by Hurricane Katrina. The hurricane and its grim aftermath were hot topics on his chart-topping 2006 effort Reality Check, an album that featured production from Scott Storch, Cool & Dre, and Lil Jon with one lone cut coming from Mannie Fresh. Fresh would be absent from his 2009 Atlantic release Cocky & Confident, but Juvenile would take a co-production credit for the first time in his career. Beast Mode from 2010 found him moving UTP to the E1 family of labels, but it was a short-lived relationship. Fontana became UTP's new home in 2012 when the label released Rejuvenation, a Cash Money reunion of sorts with Mannie Fresh handling many of the beats.

SCARFACE
Scarface is a man who refuses to stray from what made him regarded as one of the best MC's who ever did it. After a bit of a musical hiatus – a stint in prison, and a radical change in his health regimen briefly shifted his focus – Face is coming back hard this summer with his 13th album, Deeply Rooted. From his earliest verses in the late 1980's as a solo artist and a member of the Geto Boys to every song on Deeply Rooted, Face has always made sure to tell the stories he feels the world needs to hear. Whether it is speaking out against injustice, reflecting on his struggles with depression and his own mental health, or just telling the stories of the streets, he is one rapper you can always rely on to give you the real deal. Scarface has seen it all, and has worked hard his entire life to keep the culture of hip-hop Deeply Rooted. When a doctor told him he needed to lose weight and that he was at risk of having a stroke, he took matters into his own hands and changed his diet, gave up the drugs doctors had prescribed him over the years, and hit the gym relentlessly. He knows that we have lost a lot of our greats over the years, and that he needs to stick around. One hundred pounds lighter, he looks like he did when he was first starting out at 17 years old, over 25 years ago. And the energy that runs through his new songs is rivaled only by his earliest work.

8BALL & MJG
With a career that spans nearly two decades, Memphis, Tennessee rap duo 8Ball and MJG have done nothing short of that. Premro "8Ball" Smith and Marlon Jermaine Goodwin (dubbed MJG for obvious reasons) were both reared in households that championed the classic soul sounds of Al Green, Marvin Gaye and the like. 8Ball and MJG initially met success locally, quickly attaining a reputation as a rising rap group. Concurrently, Tony Draper, an aspiring record business entrepreneur, had an upstart indie label based out of Houston, Texas called Suave House. A mutual friend of the group connected them with Draper, and within months they found themselves in Houston, living out of a hotel and recording their debut LP, Comin Out Hard, in the spare bedroom of Tony Draper's baby mother's apartment. The project was released in 1993 and was successful in the growing Southern rap market. Subsequent albums from 8Ball and MJG- On The Outside Looking In (1994) and On Top Of The World (1995)- sold well, and were met with critical praise, thus further solidifying the group as an emerging act in the Southwestern hip-hop scene. They rose along with UGK, The Geto Boys and from their own hometown, Three 6 Mafia. These projects also raised the profile of Suave House Records, a family-like label with a growing roster of artists, that was quickly becoming an independent powerhouse. The group's run with Suave House continued through their gold-selling 1997 LP, In Our Lifetime Vol. 1., and eventually a set of solo records for each member- MJG's No More Glory (1997) and 8Ball's double album Lost (1998). In 2000, they left Suave House and released Space Age 4 Eva independently through JCOR Records. By 2003, 8Ball and MJG were looking for a new recording home. They had multiple deals on the table, but one particular offer, from Diddy's Bad Boy Records, who they'd had a relationship with dating back to the Mase-era (they appeared on "The Player Way," from Mase's Harlem World in '97), seemed most promising. 8Ball and MJG were considered, as their Bad Boy Records debut title alluded to, Living Legends. The album dropped in 2004, spawned the trunk-rattling hit single "You Don't Want Drama," and quickly went gold. Their second Bad Boy album, Ridin High, was released in March of 2007. In May 2010, the Tennessee rap titans released their comeback project, Ten Toes Down, through a partnership with TI's Grand Hustle Records, Push Management and E1 Music.

TOO SHORT
Too $hort is Todd Shaw, diminutive rapper from Oakland, California. His first introduction to rap came after hearing the Sugarhill Gang and Melle Mel. In 1983, on the back of three years hustling his own homemade tapes with partner Fred Benz, Too $hort signed to independent label 75 Girls. His first two albums, though musically valid, suffered from an over-reliance on hackneyed tales of pimping and gun fights. After another album he set up his own Dangerous Music Company in 1986, co-founded with manager Randy Austin. Born To Mack whistled up sales of over 50,000 from the trunk of the artist's car, and Jive Records became intrigued by this parochial phenomenon. They re-packaged Born To Mack which went on to go gold and establish Too $hort as the first west coast rap star. Lyrical matters had, however, only improved marginally on the arrival of his first Jive album proper, Life Is... Too $hort, which went platinum and stayed in the US pop charts for 78 weeks, helped in no small part by rumours about the rapper having met a violent death. The album was also released in 'Clean' and 'Explicit' versions, a practice that would soon become commonplace in hip-hop. The album was at least a more considered effort than the following collection, Short Dog's In The House, where titles like 'Pimpology' illustrated the sort of material on offer. Its saving grace was a double-take with Ice Cube on his anti-censorship hymn, 'Ain't Nothin' But A Word To Me'. Musically, Too $hort had always based his career on a limited diet of samples drawn from the likes of Sly Stone, Graham Central Station and Kool And The Gang. Something of a departure was 1992's Shorty The Pimp. His fourth platinum album, Get In Where You Fit In, retraced the steps of his earlier material. By 1994, free of Jive's punitive contract following the release of 1996's Gettin' It (Album Number Ten), the rapper set-up his own Short Records label and announced his retirement from recording. Re-establishing his name with several prominent guest appearances on tracks by the Notorious B.I.G. , Lil' Kim and Jay-Z among others, he renegotiated his contract and returned with 1999's Can't Stay Away, which debuted in the Top Ten and went gold. A series of follow-ups surfaced subsequently. In 2006 his high-profile album Blow the Whistle arrived with producers Jazze Pha and Lil Jon contributing. Too $hort remains a major force on the mainstream and underground scenes in the new millennium, making him one of the most enduring success stories to emerge from the rap scene. On October 7, 2008 Too Short was honored by VH1 at the fifth annual "Hip-Hop Honors" along with Cypress Hill, De La Soul, Slick Rick and Naughty By Nature. In 2009, Too Short recorded for Daz Dillinger, Lil' Jon, Soopafly, Scarface and B-Legit. In 2011, the rapper was featured on Wiz Khalifa's song "On My Level". He also collaborated in Snoop Dogg's 2011 album, Doggumentary in the song "Take U Home" and on the 50 Cent song "First Date". In 2012 Too Short along with E-40 released two collaboration albums on the same day titled History: Mob Music and History: Function Music. Both charted in the top 100 on the Billboard 200 albums chart. Too Short has said the best verse he has ever recorded is a verse for a song on Dr. Dre's Detox called "Man's Best Friend (Pussy)". In 2013, it was announced he will be collaborating with Lady Gaga on a song entitled "Jewels and Drugs" for her upcoming album Artpop. Also featured on the song are T.I. and Twista.

DJ QUIK
DJ Quik (born David Martin Blake on January 18, 1970) is a West Coast rapper and record producer from Compton, California. He was raised at 436 West Spruce Street in Compton, California. He began selling homemade mixtapes (like "The Red Tape", 1987) after he received a turntable for his 9th grade graduation and then began doing shows DJing around Southern California when he moved out. He signed to Profile Records in the summer of 1990, reportedly as the label's first six figure signee. Not only could he rap and write his own songs, he could produce as well. His debut album, "Quik Is The Name" was led by the success of two top 20 R&B singles, "Tonite" and "Born and Raised in Compton." "Tonite" even charted on the pop charts. The album ended up reaching 10th on the album charts. None of his successive albums reached the success of his debut, though they have been well received in California, particularly his 1998 release "Rhythm-Al-Ism." His most popular albums are Quik Is The Name and Safe + Sound. On "Safe + Sound" appears "Dollaz And Sense," which was a diss track to Compton rapper and member of the rival Tragniew Park Crips MC Eiht. Though full of bravado at the time, Quik now admits to fearing for his life during the period. Instead of joining the G-Funk movement during the 1990's, DJ Quik had his own style that a new version of P-Funk, inspired by artists like Roger Troutman (who even taught him the use of the talkbox, which became a trademark for Quik's sound in the 1990's) and George Clinton. Throughout his career, Quik has collaborated with and produced for artists including 2Pac ("Heartz of Men", "Words To My First Born", "Late Night"), Janet Jackson ("All For You"), Snoop Dogg (e.g. "Doin' Too Much", "Buss'n Rocks", "Don't Tell"), Talib Kweli ("Put It In The Air"), Whitney Houston ("Fine"), Kurupt ("Can't Go Wrong"), Jay-Z ("Justify My Thug"), Xzibit ("Sorry I'm Away So Much"), Ludacris ("Spur of the Moment"), Chingy ("Bagg Up", and "Wurr's My Cash"),Dr. Dre, 2nd II None, Hi-C, Suga Free ("Street Gospel" album and on the "New Testament" album), 8Ball & MJG ("Buck Bounce") and others. Though he formally produced only "Heartz of Men" on 2Pac's masterpiece "All Eyez On Me" album, he went uncredited for work on many other tracks on the album. In 2002, he produced Truth Hurts' Top 10 pop hit "Addictive". In September 2005, DJ Quik released his first independent album on his own new label, Mad Science, which was supposed to be distributed by Warner Bros but Quik was forced to let Time Warner and so signed his Mad Science with Fontana/Universal. The album is titled "Trauma" and reflects the turmoil in the producer's life over the past few years. He then released "Trauma: Instrumentals". In recent years he has worked with a 74 piece orchestra during a collaboration with Marcus Miller while working on the score to the movie "Head of State." Over the years, Quik has morphed from a hardcore gangsta rapper to a mainstream producer and rapper who is not afraid to change his style.

BUN B
Rapper Bun B (born Bernard Freeman) rose to fame in the duo UGK. Bun B and Pimp C formed UGK in the late '80s when their former crew, Four Black Ministers, fell apart. Based in Port Arthur, Texas, UGK signed with Jive, and with 1992's Too Hard to Swallow began a series of Southern gangsta rap albums that were successful sellers. Bun B formed the side project Mddl Fngz in 2000, but his main concern was still UGK. Things came to halt in 2003 when Pimp C was sentenced to eight years in prison. Bun B carried on solo, making numerous appearances on other artists' tracks and then in 2005 releasing both the mixtape Legends and his debut album, the Rap-a-Lot release Trill, a Top Ten hit. With Pimp C seeing early release in late 2005, Bun B returned to UGK and a self-titled double album from the duo dropped in 2007. Tragedy struck in early 2008 when Pimp C died suddenly, leaving Bun B to return to a solo career. His second solo album, II Trill, arrived that same year with his third, Trill O.G., following in 2010. In 2013 he closed the Trill series with the fourth and final effort, Trill O.G.: The Epilogue.