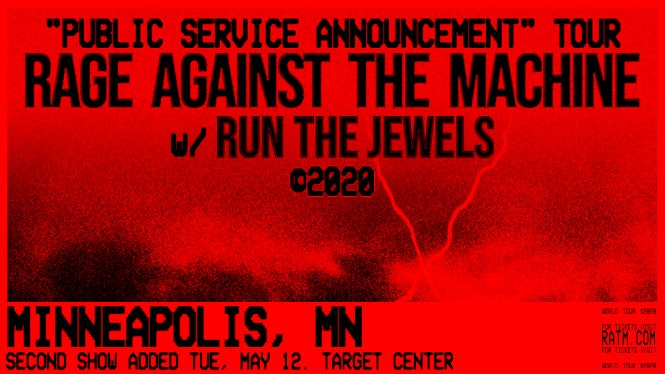 MINNEAPOLIS, MN (Thursday, February 13, 2020) - Earlier this week, Rage Against the Machine announced a worldwide headline tour and tickets for all cities went on sale this morning including a May 11 Target Center show. Due to overwhelming demand, a second Target Center show has been added on May 12. Tickets for the second show are on sale now at TargetCenter.com, in person at the Target Center box office or by calling 888-9-AXS-TIX.
Show time is 8:00pm. Reserved seats and general admission main floor tickets are priced at $128.00.
Incendiary rap duo Run the Jewels (Killer Mike & El-P) will join RATM in support of their highly anticipated new album, RTJ4, out this spring. Through ticketing, volunteering and band donations, Rage Against the Machine will be working with multiple charities and activist organizations throughout the tour. In addition, 100% of all proceeds from El Paso, Las Cruces and Phoenix will go to immigrant rights.
For Further Information
Call John Soss at 312-440-9191
JohnS@jamusa.com