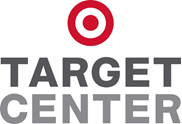 MINNEAPOLIS/ST. PAUL – Target Center and the National Collegiate Hockey Conference (NCHC) announced that the parties have reached a mutual and amicable agreement to waive the final year of their existing contract which had the 2018 NCHC Frozen Faceoff tournament scheduled to take place at the arena.
"Target Center is proud to have been a part of one of the country's top college hockey tournaments," stated Steve Mattson, Target Center Vice President/General Manager, "We wish the NCHC well in their future endeavors."
With the help of Target Center and the city of Minneapolis, the newly-formed college hockey conference tournament grew each year from its inaugural event in March 2014, culminating this past season with four of the top-15 nationally ranked college hockey teams battling for the title.
"The NCHC is extremely appreciative for all the support and effort that has been put forth by Target Center's staff, along with the city of Minneapolis, over the Frozen Faceoff tournament's 4-year history," NCHC Commissioner Josh Fenton said.
Target Center is managed by AEG Facilities and is home to the NBA's Minnesota Timberwolves and 3-time WNBA world champion Minnesota Lynx. Target Center's complete event calendar can be found at www.targetcenter.com/events/all.