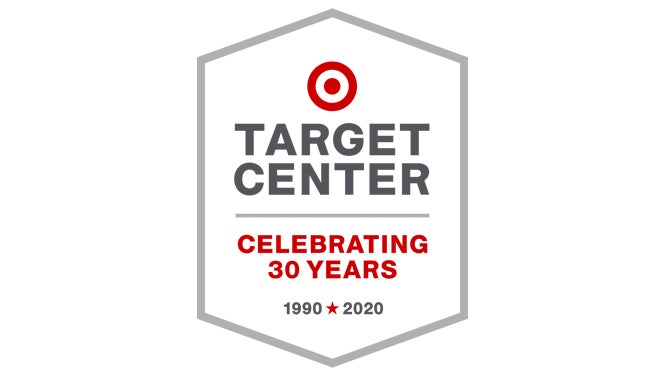 Minneapolis, MN (Monday, January 27, 2020) — This year, Target Center celebrates 30 years of unforgettable events with a year-long celebration. Located in the heart of downtown Minneapolis' vibrant sports and entertainment district, the doors of Target Center first opened on October 13, 1990 with a charity event entitled "Jump Ball," which benefited the American Cancer Society. Since then, over 38 million people have attended more than 5,600 events at Target Center in its 30 year history!
"Target Center is a vital component of the Minneapolis music scene. We are excited to look back and celebrate the last 30 years while continuing to present a diverse and exceptional array of entertainment for decades to come," said Hugh Lombardi, GM, Target Center.
Owned by the City of Minneapolis and managed privately by ASM Global, Target Center is the proud home of the NBA's Minnesota Timberwolves and four-time WNBA world champion Minnesota Lynx. In 2017, the arena completed a 140-million-dollar renovation, transforming the venue into a state-of-the art facility attracting the entertainment industry's top touring artists, family shows and marquee sporting events, hosting over 1,000,000 guests annually.
"The City of Minneapolis is fortunate enough to have a world class venue located right in the heart of downtown for the past 30 years," said Jeff Johnson, Assistant City Coordinator. "Target Center has been instrumental in the growth and enrichment of our city by bringing the very best in live music, sports and entertainment. We look forward to celebrating the history of this great venue in 2020 and in the coming years."
A highlight of the year-long celebration will be the venue's #TargetCenter30 promotion where one lucky fan will win a pair of tickets to every Target Center event for the remainder of 2020. Beginning today, fans are encouraged to share their favorite Target Center memory over the past 30 years by entering here and using the hashtag #TargetCenter30 on social media.
"Minnesota is home to some of the most passionate music and sports fans in the world. Everyone at Target Center is excited not only for one lucky fan to be our guest all year long, but to also relive all of the incredible moments and stories every fan has from the past 30 years. Thank you to everyone who has walked through our doors; we look forward to making many more unforgettable memories," said Lombardi.
Join the celebration! Follow Target Center on Facebook, Instagram and Twitter to keep up with the 30th Anniversary Celebration and more events to be announced.
About ASM Global
ASM Global is the world's leading venue management and services company. The company was formed by the combination of AEG Facilities and SMG, global leaders in venue and event strategy and management. The company's elite venue network spans five continents, with a portfolio of more than 300 of the world's most prestigious arenas, stadiums, convention and exhibition centers, and performing arts venues. From Aberdeen to Anchorage, and Sydney to Stockholm, its venues connect people through the unique power of live experiences.
ASM Global's diverse portfolio of clients benefit from the company's depth of resources and unparalleled experience, expertise and creative problem-solving. Each day, the company's 61,000 passionate employees around the world deliver locally tailored solutions and cutting-edge technologies to deliver maximum results for venue owners and amazing experiences for guests. By consistently looking for new ways to envision, innovate and empower the spaces and places that bring people together, ASM Global elevates the human spirit while delivering the highest value for all stakeholders. For more information, please visit www.asmglobal.com.