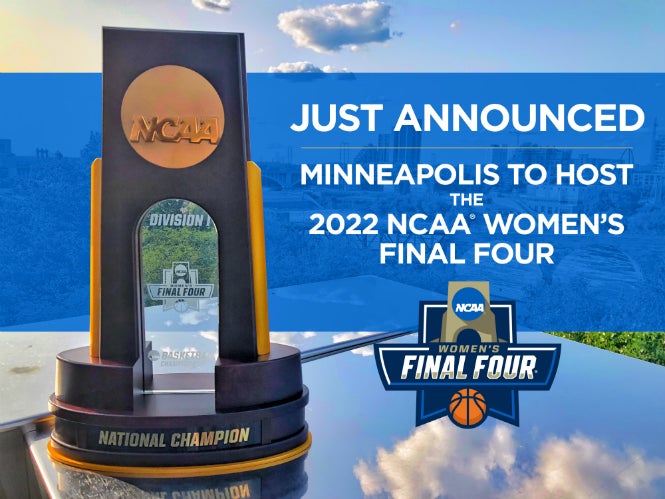 Minneapolis (Sept. 24, 2018) – Today, the National Collegiate Athletic Association® (NCAA) announced Minneapolis will host the Women's Final Four in 2022. The University of Minnesota, Sports Minneapolis and Target Center began the bid process to host the crowning event for women's college basketball more than a year ago. Final presentations were made in Tampa, last week, and the Minneapolis Bid Committee brought home a win with "Your Home Court Awaits" as its theme.

"We are honored to serve as the host institution for the 2022 Women's Final Four," said Minnesota Director of Athletics Mark Coyle. "Minnesota has a long-standing tradition of hosting marquee NCAA championships, and we are excited that the Women's Final Four is coming back to Minneapolis for the first time since 1995. The 2022 championship will have extra meaning, as it will be the 50th anniversary of Title IX. We look forward to crowning a champion, while also celebrating the sport and this landmark anniversary."

The NCAA named Minneapolis among the eight finalist cities in January; Nashville dropped out, leaving seven cities vying for selection. The detailed process for being selected included a local site visit, which took place in conjunction with the WNBA All-Star Game in July. NCAA Women's Basketball staff and one member of the NCAA Women's Basketball Committee toured the city along with its hotels, Target Center and the Minneapolis Convention Center. Because the visit took place during WNBA All-Star weekend, the NCAA had a chance to see Minnesota fans in action, supporting women's sports.

"It took great teamwork to secure this very important women's championship event for our city and region, and we're incredibly proud of the trust the NCAA has placed in us to be its home for the 2022 NCAA Women's Final Four," stated Melvin Tennant, Executive Director of Sports Minneapolis and President and CEO of Meet Minneapolis. "This community has shown incredible support for female athletes at every level in our state. We intend to showcase that enthusiasm, along with our vibrant city and world-class venues, to fans and student athletes from around the country."

"I cannot express how thrilled the Target Center team is to have been awarded the 2022 NCAA Women's Final Four," stated Hugh Lombardi, Regional Vice President for AEG Facilities and General Manager of Target Center. "We are so proud of the incredible women's basketball that has taken place at our arena including the WNBA Finals and the WNBA All-Star Game. And there is no better place for perhaps the most prestigious women's basketball event, the NCAA Women's Final Four, to call its 'home court' than Target Center in Minneapolis."

For more from the NCAA, visit here.
For more from Sports Minneapolis, visit here.