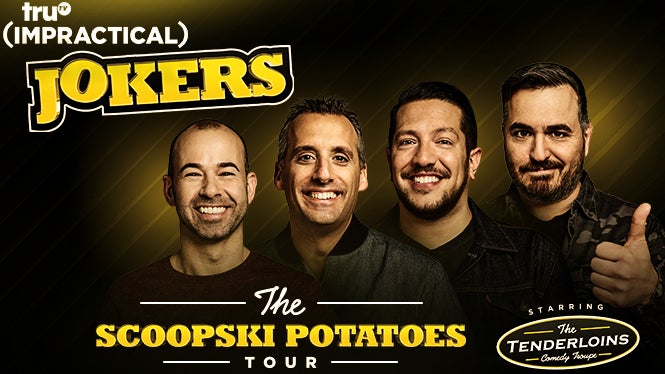 Monday, July 19, 2021 - The Tenderloins, creators and stars of truTV's hit show "Impractical Jokers" and TBS' "The Misery Index," announced today "The Scoopski Potatoes Tour," a brand-new live show slated to hit arenas around the U.S. Launching this November, the 40-city tour is produced by Outback Presents.
Off the heels of a successful season 3 launch of game show "The Misery Index," the Season 10 pickup of "Impractical Jokers," and their sold-out global "Cranjis McBasketball' tour, The Tenderloins are excited to bring new jokes to comedy fans across the nation. Tickets for all shows will be available on Friday, July 23rd and can be found at thetenderloins.com/tour. Pre-sale tickets available for select shows on Wednesday, July 21, 2021.
"The Scoopski Potatoes Tour," consisting of never-before-seen videos and storytelling stand-up will be kicking off in Glendale, AZ on Friday, November 19, 2021, visiting such markets as Cleveland, OH; Sacramento, CA; Portland, OR; Milwaukee, WI; and Chicago, IL for New Year's Eve, amongst many others.
James "Murr" Murray, Brian "Q" Quinn, Joe Gatto, and Sal Vulcano have been making audiences laugh on "Impractical Jokers" since 2011, having reached a 200 episode milestone back in February 2020. Impractical Jokers is a top 5 comedy on cable, and truTV's longest running & top-rated original comedy.
"We've waited a long time to be able to get back on the road doing what we love most - making people laugh!" said The Tenderloins' Joe Gatto, James Murray, Brian Quinn and Sal Vulcano. "This tour is especially meaningful to us, and we are absolutely thrilled to be back in person where we can connect with and laugh alongside our fans for the first time in over a year and a half. We can't wait to kick off the festivities."
For more information and a full list of "The Scoopski Potatoes Tour" dates see below or visit thetenderloins.com/tour. Initial on sale cities/venues include:
"The Scoopski Potatoes Tour" Schedule:
Friday, November 19, 2021 Glendale, AZ @ Gila River Arena
Saturday, November 20, 2021 San Diego, CA @ Pechanga Arena
Sunday, November 21, 2021 Sacramento, CA @ Golden 1 Center
Friday, December 3, 2021 Minneapolis, MN @ Target Center***
Saturday, December 4, 2021 Green Bay, WI @ Resch Center***
Friday, December 17, 2021 Milwaukee, WI @ Fiserv Forum
Saturday, December 18, 2021 Kansas City, MO @ T-Mobile Center***
Sunday, December 19, 2021 Sioux Falls, SD @ Denny Sanford PREMIERCenter***
Tuesday, December 28, 2021 Cincinnati, OH @ Heritage Bank Center
Wednesday, December 29, 2021 Cleveland, OH @ Rocket Mortgage FieldHouse
Thursday, December 30, 2021 Columbus, OH @ Schottenstein Center
Friday, December 31, 2021 Chicago, IL @ United Center
Thursday, February 10, 2022 Boise, ID @ ExtraMile Arena***
Friday, February 11, 2022 Portland, OR @ Moda Center***
Sunday, February 27, 2022 Jacksonville, FL @ VyStar Veterans Memorial Arena ***
Saturday, March 26, 2022 Duluth, GA @ Gas South Arena***
Friday, April 29, 2022 Albany, NY @ Times-Union Center***
Saturday, April 30, 2022 Wilkes-Barre, PA @ Mohegan Sun Arena at Casey Plaza ***
Friday, July 1, 2022 Salt Lake City, UT @ Vivint Arena***
Thursday, July 14, 2022 St. Louis, MO @ Enterprise Center***
Friday, July 15, 2022 Oklahoma City, OK @ Chesapeake Energy Arena***
Saturday, July 16, 2022 Fort Worth, TX @ Dickies Arena***
Sunday, July 24, 2022 Costa Mesa, CA @ Orange County Fair***
Friday, July 29, 2022 Syracuse, NY @ OnCenter War Memorial Arena***
Saturday, August 6, 2022 Lincoln, NE @ Pinnacle Bank Arena***
Wednesday, August 17, 2022 Pittsburgh, PA @ PPG Paints Arena***
Friday, August 19, 2022 Norfolk, VA @ Scope Arena***
***Rescheduled date
Press Contact:
Jenna Satnick/Karson Bankhead
Sunshine Sachs
(212) 691-2800
TheTenderloins@SunshineSachs.com
About The Tenderloins: The Tenderloins is a New York-based comedy troupe, whose four members – Joe Gatto, James Murray, Brian Quinn and Prince Herb – are the Creators, Executive Producers, and Stars of truTV's hit series, Impractical Jokers. Recently picked up for its tenth season, Impractical Jokers follows The Tenderloins as they compete to embarrass each other while being filmed by hidden cameras, all the while showcasing their longstanding camaraderie. Additionally, their hit game show – TBS's "The Misery Index" hosted by Jameela Jamil – is entering its third season as a top-rated cable comedy. Their latest TV hit "Impractical Jokers: Dinner Party," debuted in 2020, expanding their TV footprint. In addition to TV success, The Troupe has toured steadily over the last eight years with its wildly popular live show, performing for over one million fans in the US and UK, including six sold-out nights at Radio City Music Hall, a sold-out Madison Square Garden, and six sold-out shows at London's O2 Arena. Natives of Staten Island, NY, Vulcano, Gatto, Murray and Quinn met while attending high school and later formed The Tenderloins Comedy Troupe in 1999. After years of live improv and sketch comedy, The Tenderloins crossed over to the web, garnering millions of views for their internet sketches, eventually creating the runaway success Impractical Jokers for truTV. In addition to success in the US, Impractical Jokers is the #1 show on Comedy Central in the United Kingdom and India.
Outback Presents: Outback Presents is the leading independent, full-service promoter of live entertainment. Based in Nashville, Tennessee, Outback Presents specializes in producing music and comedy shows, tours, and festivals across North America and connecting its diverse roster of artists with their fans.
###